Feature-Rich CCaaS Solutions
Get a right-fit contact center solution that adapts to your unique business needs – and helps you scale.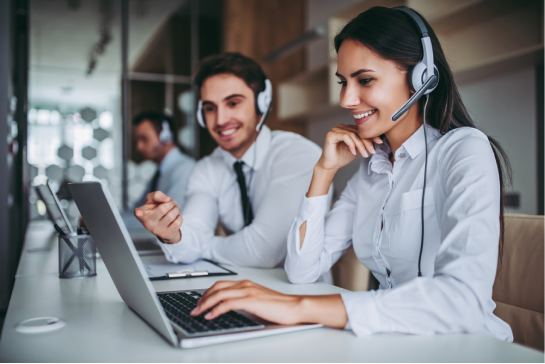 Enhance CX

with CCaaS

Deliver superior customer experiences and achieve tangible business outcomes with a feature-rich, customizable contact center solution. Ready to make the move to CCaaS? We're here to help.
The Performance You Need (Without the Problems)
We'll help you make a seamless move to CCaaS. Up-level your contact center and avoid:
Integration Issues
Get a solution that easily integrates with your CRM, ticketing, databases, and other existing software and solutions.
Non-Compliance
Maintain data security, privacy, and compliance with industry regulations like GDPR and HIPAA.
Lack of Features
We'll recommend a solution that meets your unique needs – and helps you avoid workarounds and complicated integrations.
Better CCaaS Options.
Better Service.
We're the strategic business technology partner that will guide you to CCaaS solutions that grow revenue, reduce costs, & improve efficiency.
Consistent QoS
Deliver exceptional CX with a solution that delivers good call quality, low latency, and high uptime.
Easy Migration
We'll ensure your employees are effectively trained in your new CCaaS solution – minimizing disruption during the transition.
Performance Monitoring & Analytics
Get a CCaaS solution that provides robust tools for insights and optimization.
Working With CrossVergence: Easy as 1-2-3
We've made it simple to make us your partner in technology.
We'll develop a deep understanding of your business problems.
We'll recommend the right-fit solution from a vetted provider.
We'll ensure you get the best contract terms – and enjoy a smooth implementation.
We'll make sure you get the responsive support you deserve.